Wind Turbine – Osiris 16
WHY CHOOSE OSIRIS?
* 8 local service points world wide
* 10 years experience in small wind
* 50 world top level R & D engineers
* 200 Employees from six countries
* 2,000 turbines installed world wide
* 15,000 turbines annual production capacity
* 40,000 square meters manufacture center
* Small Wind Big Technology
SMALL WIND BIG TECHNOLOGY
* Three pitch control mechanisms included
* Carbon fiber composite reinforced blades
* Low rated RPM direct drive PM generator
* Optimal tip speed control through the whole working wind speed range
* Large blade diameter/swept area for low and medium wind speed area
* Real time monitoring of the turbine and environment status
Osiris 1.6 was developed aiming high quality/reliability product with affordable price.
FEATURES
* IEC 61400-2 Compliant
* Very short payback period due to its high output and competitive price
* Specially designed for grid tie application
* Multi-points programmable grid tie controlling methods for wind application
* High response speed for wind speed and direction changes
* Multi-protection methods in high wind speed environment for extremely higg reliability and safety
* Optimized aerodynamic performance for the low wind speed between 5m/s and 8 m/s
* Direct drive, gearless, low RPM permanent magnet generator
* Aluminum body with anti-corrosion treatment for working in extremely wet and salty harsh environment
* No regular maintenance needed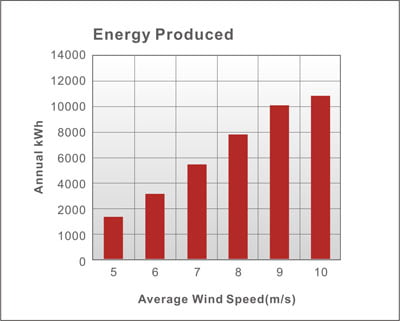 Model
Osiris 1.6
Rated Capacity
1.6 kW
Estimated Annual Energy Production
3000-3500 kWh at 6 m/s
(Real testing data instead of simulated/calculated data)
Start-up Wind Speed
2.4 m/s
Rated Wind Speed
10.5 m/s
Survival Wind Speed
50 m/s
Generator
Direct drive permanent magnet (NdFeB) generator
Weight
78 kGs
Rotor Diameter
3.2 m
Number of Blades
5
Blade Material
Fiberglass reinforced composite
Rotor orientation type
Upwind
Direction of Rotation
Clockwise looking upwind
Rated Rotation Speed
450 RPM
Yaw Control
Passive
Protection System in High Wind Speed
Dump load, passive yawing and blade stall.
Grid Tie Type
Programmable transformerless 220/240 VAC 50-60 HZ
Carbone fiber composite reinforced blade made with 5 tons' aluminum RTM molds ensures its strength (can withstand more than 30,000 NM for Osiris 10), production performance, rotation balance and lifetime.
9.7 meters blade diameter brings Osiris 10 74 square meters' swept area and guarantee it to become one of the best power production machine in its class even at low wind speed.
Ultra low rated RPM (120 for Osiris 10) direct drive permanent magnet generators give the features of low noise, low vibration, low start-up wind speed, high efficiency and high production to Osiris turbines.
Osiris unique pitch mechanism secures the safety of the turbine at extremely high wind condition with the speed over 50m/s. The failure to safe pitch system combines with three levels' pitch mechanism including passive pitch, active pitch with battery backup and manual pitch.

Hydraulic tower system allows the installers to install the Osiris turbines safely, easily and economically. It also allows the installers to avoid dangerous climbing of the tower and perform the maintenance on the ground when needed.
Osiris monitoring system includes both turbine status & safety monitoring and power production monitoring. It can automatically shut down the turbine when the major parts of the turbine are faulty or the wind speed is over a certain preset value. It can also monitor and keep the power production performance at the web sewer which the clients can check at any corner of the world.
THIRD PARTY INDEPENDENT TESTING
IEC 61400-2 is the world standard for small wind turbine system with the square meters less than 200 square meters. Some countries may have their own standard based on IEC 61400-2 standard (e.g. AWEA(USA), BWEA(UK), ClassNK(Japan). The main testing includes duration, power performance, safety and function, acoustic noise emissions, and power quality (where applicable). Osiris 10 is one of the very few small wind turbines in the world fully tested by the world famous lab lntertek based on the international standard of IEC 61400-2, American standard of AWEA 9.1 and Japanese standard of Class NK. UK MCS testing and certificate was also done by our UK partner.
With these testing and certificate, not only the third party performance independent testing data is available, but the reliability/durability testing was also completed.
REAL (OVER 2000) INSTALLATIONS IN 30 COUNTRIES
During last 7 years, over 2,000 of Osiris 1.6 and Osiris 10 systems were installed in over 30 countries in Asia, Australia, Europe, North America and Central/South America. Osiris turbines have been installed for almost all areas including residential houses, farms, telecommunication, business/retail buildings, government buildings, schools, etc.. Please feel free to check the installation photos and case studies on our website.
LOCAL SERVICE LOCAL WARRANTY
We always believe that we need to provide the local service and local warranty with our over 100 dealers network in 44 countries. We have distributors and dealers in following areas marked on the map, please contact us by sales@osirisenergy.com to obtain information of local dealers.